Athens, 3 December 2012
Press Release
Subject: «Report of discrimination, intimidation and racist violence against a trans woman in Education.»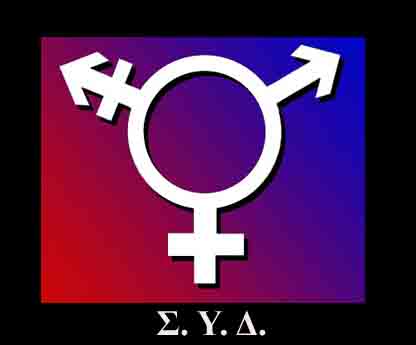 The Greek Transgender Support Association (GTSA), ngo for the advancement of transgender people's rights and the Group "Homophobia in Education", group of Education Professionals, Psychic Health Professionals and Sociologists – Social Workers fighting against homophobia and transphobia in education, report a case of discrimination on the grounds of gender identity, intimidation and racist violence against a trans person in Education.
In particular, as was reported to us by a 25 year old trans woman known as A.:
At the start of the school year 2011-12 during her enrollment at an evening school in Attica, which she did in order to complete her school studies, she face problems with the school's new directors office. She produced a document on which were recorded her male personal details (because she has not had reassignment surgery) which are not congruent with her presentation/ gender. The first reaction of the headmaster was "is this your brother?" and when the trans woman replied that it is herself he attempted to not register her stating various different reasons.
In particular the headmaster declared that he had problems with her appearance, that since she was born a boy she is a boy, that in "his" school such they do not accept such situations, that "the other students will be annoyed" and that in case of bullying "I will punish both you and them". Later, in order to get rid of her he pushed her to change school, proposing to her initially to go to a second-chance school. Since A. did not accept this, he told her to not come to the school grounds and come in only for the June exams.
The headmaster took every chance to create a climate of intimidation and exclusion, used derogatory expressions, unleashed indirect threats, repeatedly suspended her, went as far as using physical violence against her with the result that a strong climate of confrontation was created in the school community. In particular he told her that "If I decide to take it all the way, I have the power to make it so that you won't be able to find a place in any other school". This way, A. was forced to go to school dressed as a boy, with the result that kids started making fun of her telling her that "A. turned back into a boy".
All of the above created the conditions for a group of children to target her with ridicule, abuse and threats but also with extreme physical abuse, putting in danger her physical well-being (physical violence and throwing of objects like stones, bottles, she was doused with flammable material trying to burn her and more). All this happened in and out of school, with professors present or not. It was also reported to us that in the entrances, recreational spaces and corridors of the school there were usually no professors present.
The way the school office dealt with the above events was to make light of the gravity of the assaults against her. The school office explained those actions as personal differences and "teasing" and placed the responsibility on A. maintaining that she provoked them with her appearance and her behaviour. The subject was not framed as a case of serious human rights violation.
As A. has also declared, she felt that a climate of fear had been bred among the tutors by the school administration with the result that she could find no support from them. The only tutor who responded positively and stood for A's obvious right to education, respect to her gender identity and dignified treatment without discrimination was the literature teacher E.A.
With her (E.A.'s) efforts, A. managed last year to obtain a studentship award. She (A.) had also been elected in her class' students council ("pendameles") and the school's student's council ("dekapendameles"). A characteristic phrase from A's report is: "the deprecating behaviour of the headmaster had shaken me psychologically and I was considering suicide as a solution". As A. further reports, "if I didn't have the psychological support of our literature teacher, mrs E.A., I might have killed myself".
For the duration of this period when she morally supported the trans pupil, A, the teacher, E.A., faced a series of confrontations with the school office for different causes. Presently, she is faced with a Sworn Administrative Enquiry in which she has been referred by the headmaster.
It is important to note that A., despite the discrimination and intimidation that she suffered, managed to stand her ground and proceeded to written reports-complaints addressed to the national Ombudsman and the police. She has also addressed the Director of the Education Bureau and to the office of the Deputy Secretary of Education. The situation, however, did not improve.
The violence, the fear and intimidation, the threats, persecution, discrimination and the inability to deal with such issues from the schoolmaster and the guilty silence of the other tutors, office directors and others has turned the school to a dangerous ground for A. What is required, to put it very simply, is the right to education, equal opportunities, respect and acceptance, as it is described by A.: "I ask that you help me with the issues I face at school because of my gender identity, so that I can complete my studies with normality, nothing more".
The Greek Transgender Support Association (GTSA) and the group "Homophobia in Education" with the opportunity of this case, which is not unique (we remind the reader of a similar case that was reported a few years ago, when two trans women were not allowed to enroll in an evening school in order to complete their studies), denounces in the strongest possible terms the current homophobia, transphobia and discrimination for reasons of sexual orientation and gender identity in education.
We are standing by the trans student who is facing serious issues of violation of her right to freely express her personality, anti-discrimination principles and her right to education and personal security.
We call on the Ministry of Education and the involved organisations of the Greek state, to take all necessary measures in order for the woman who reported these issues to be able to complete her studies for discrimination for sexual orientation and gender identity in education to be eradicated and for the necessary actions to be taken to inform and bring awareness to everyone in the sector of education.
Greek Transgender Support Association (GTSA)
Zan Moreas 17, Koukaki, Athens, 11741
http://www.transgender-association.gr/
transgender.support.association@gmail.com
.
Group «Homophobia in Education».
http://www.omofovia.gr
info@omofovia.gr